Jenson helps launch GREAT British McLaren 12C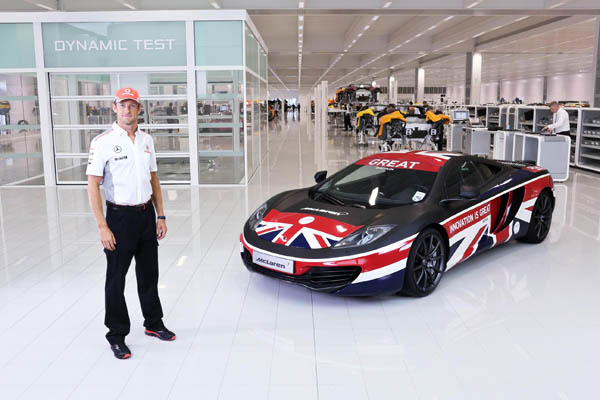 The McLaren Group has today unveiled its latest GREAT campaign liveried car, which has been designed to support and inspire British innovation.
The high-tech McLaren 12C is emblazoned with the GREAT campaign's graphics and the message 'Innovation is GREAT'. As well as demonstrating McLaren's ongoing support for the campaign, it is intended to highlight the UK's world-leading and highly innovative technology sector.
The car was launched at the McLaren Technology Centre with the support of Vodafone McLaren Mercedes driver, Jenson Button.
The GREAT campaign aims to reaffirm Britain's international reputation and deliver long-term economic benefits through additional tourism, investment and education. The McLaren 12C is the ideal vehicle to showcase the UK as a hotbed of innovation – a key theme of the GREAT campaign.
Built entirely in the UK at the McLaren Production Centre, the car incorporates ground-breaking technologies taken directly from McLaren's 50 years of experience in Formula 1, including a one-piece carbon fibre MonoCell chassis, which forms the core structure of the car and weighs just 75kg. The GREAT 12C is powered by a British made 3.8 litre V8 twin turbo engine, one of the most efficient high-performance engines ever built, and features numerous cutting-edge technologies including Brake Steer and a Proactive Chassis Control System.
The McLaren 12C demonstrates that there is a global market for British innovation; McLaren has established a global sales network and 80% of the cars it makes are exported.
Martin Whitmarsh, CEO of McLaren Group said: "McLaren is proud to be an ambassador for British innovation and to support the GREAT campaign. The UK has led the world in the development of technologies which have changed people's lives, from the jet engine to the internet. I believe that we are now seeing a resurgence of that pioneering spirit and McLaren is playing its part. The McLaren 12C is a tangible embodiment of technological creativity and I hope with that with its GREAT livery it will help draw international attention to what the UK's high-tech industry is capable of, and inspire young people at home."