McLaren celebrates 50 years of greatness!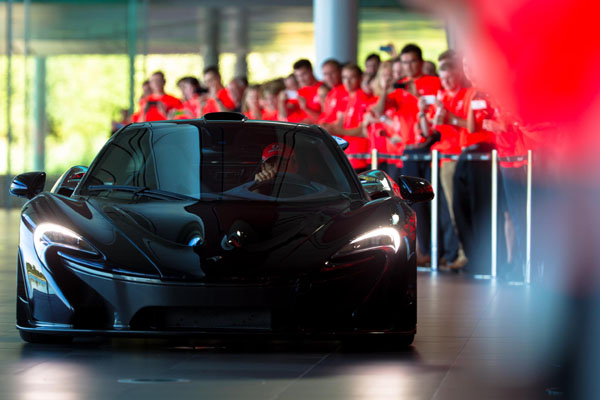 In celebration of the team's 50 years, McLaren staff joined together at the McLaren Technology Centre in Woking, England, to mark half a century of race winning, by one of the most successful names in motorsport.

The celebrations were marked by current Vodafone McLaren Mercedes drivers Jenson Button and Sergio Perez, who took part in the display in the two latest models from McLaren Automotive.

Perez arrived in the 3,000th production 12C – a 12C Spider finished in striking Volcano Yellow, while 2009 Formula 1™ world champion Jenson Button showcased the McLaren P1™ in front of the entire McLaren Group staff, dressed in Rocket Red t-shirts to honour the landmark occasion.
2ndSeptember, 1963: the birth of a racing legend
Bruce McLaren Motor Racing Limited was formally incorporated on September 2 1963, when the 26-year-old New Zealander mustered together a small crew of committed individuals to design, build and race cars bearing his own name, operating from a small, cramped workshop in New Malden, Surrey.
From that tiny base, the team migrated through various premises in Colnbrook and Woking before settling upon its current site at the McLaren Technology Centre, home to all of the team's businesses, and workplace to more than 2000 people.
For any organisation, that's quite an incredible transformation. Yet the company's sporting successes have equally blossomed beyond measure since those early days.
Bruce took the team into Formula 1 at the 1966 Monaco Grand Prix – and, since that day, no team in Formula 1 has scored more victories [182] than McLaren. Elsewhere, the team dominated the iconic North American CanAm sports car series, taking 43 wins between 1967 and 1972, won the Indy 500 three times between '72 and '76, and took the Le Mans 24 Hours on its first attempt, in 1995.
McLaren's great champions – Emerson Fittipaldi, James Hunt, Niki Lauda, Alain Prost, Ayrton Senna, Mika Hakkinen and Lewis Hamilton – are all household names and legends of motorsport.
The organisation's current scope is particularly broad: it has grown from a humble racing outfit to encompass McLaren Electronic Systems, which supplies technologies to every team in F1, NASCAR and Indycar, and McLaren Applied Technologies, which applies the company's expertise to a wide range of industries from elite sport and healthcare to energy and product design.
In 1993, the roadcar division, McLaren Automotive, launched arguably the purest and most focused supercar in history, the F1, perfectly honouring Bruce's legacy. Even 20 years on, it is still regarded by many as the greatest supercar of all time. More recently, it has successfully launched both the ground-breaking 12C and 12C Spider high-performance sports cars and the superlative McLaren P1TM – the manufacturer's newest and most exciting supercar.
However, the company sees its 50th anniversary as merely the starting-point for even more ambitious growth.

Following the outstanding acclaim that greeted the arrival of the P1TM, McLaren Automotive is already working busily to extend the line-up, and McLaren Racing's exciting technical partnership with Japanese manufacturer Honda, which hits the track in 2015, promises a return to the greatness achieved during its previous link-up, which won 44 grands prix and eight world titles in the 1980s and '90s.
Despite the broadening of the group's business interests, McLaren's goal remains singular: to win. McLaren's latest press release suggests that this is less a corporate slogan and more a matter of personal pride and that McLaren's ethos cuts deep into the organisation, creating a workforce unified by the same passion – this is said to be the quality that ensures McLaren remains such a relentless force in everything it does.
Ron Dennis, McLaren Group chairman, said:
"McLaren started as the dream of one man, and it's since grown to encompass the hopes and dreams of more than 2000 men and women, who work as tirelessly as Bruce McLaren himself once did to ensure that everything we do reflects well when compared with everything we've ever achieved. So, our 50th anniversary provides an opportunity for every single McLaren employee to realise that he or she is an utterly crucial part of an organisation with a history and a culture that really mean something. Call it McLaren's DNA, if you like. Call it McLaren's brand continuity, if you prefer. Call it McLaren's corporate culture, if you will. Call it McLaren's undiminished hunger to win in everything we do, and you'd probably be getting closest to what I mean, what I think, and what I feel."
Martin Whitmarsh, McLaren Group CEO, said:
"Marking McLaren's 50th anniversary is an extremely proud moment for me, and for every single person who works for this organisation. We are a group that thrives on the passion, determination and belief of our employees. We are also grateful to have received outstanding support from all our partners over the decades, whose backing has given our world-class engineers and drivers the tools they need to win races. We make no secret of the fact that we are a hugely specialist set of businesses, but far from that being a limiting factor, our adaptability and determination have made us restless, dynamic and inventive. To witness the scope and scale of our growth across the past five decades has been truly astonishing. From our humble beginnings, McLaren has not only become a world-renowned sporting force, but also a byword for superlative technical excellence and attention to detail. That's an incredible legacy, and a testament to the consistent adherence to the highest of standards. Everything we do – from racing grand prix cars around the world to developing groundbreaking new medical technologies – is approached with the same mindset: how can we be better? How can we be the best? That is the methodology that continually motivates me and still makes me feel incredibly proud to work for McLaren."
Mike Flewitt, McLaren Automotive CEO, said:
"McLaren is a truly inspirational company which has been synonymous with success for five decades. McLaren Automotive is still young, by comparison to the rest of the group, but we already have a great deal to be proud of. When the company was established it was set some very challenging objectives. By bringing three new cars to market, establishing a global sales network and developing a truly world-class manufacturing facility, we have more than met those challenges and laid solid foundations for what, I believe, will be a very bright future. We owe a huge thanks to our technical partners Pirelli, ExxonMobil, Akebono, AkzoNobel and TAG Heuer, whose support has been invaluable; and particularly to our staff, who have demonstrated unwavering commitment and enthusiasm. McLaren Automotive is already an important part of the McLaren story and we have an exciting opportunity to play an even greater role in the company's future."
Jenson Button said:
"I've never hidden my pride at being a McLaren driver. I grew up watching this team achieving great things with Ayrton Senna and my racing hero, Alain Prost. And I firmly believe this team will be great again; this is an organisation you can never discount – their appetite for winning is unlike anything I've ever seen and, rest assured, we will be back at the front soon. For me, it's hugely gratifying to not only be at MTC on the actual day of the anniversary, but to spend time with the thousands of people who all work with such skill and enthusiasm to make McLaren great. Happy 50th birthday McLaren – you are an inspiration to everyone in motorsport."
Sergio Perez said:
"Ayrton Senna was my hero when I was growing up and getting into Formula 1. Ever since then, I've had huge respect for McLaren – throughout my whole life they have been winning races and championships, and have consistently been one of the best teams in Formula 1. To drive for McLaren in their 50th year has been a great personal achievement for me – ever since I first arrived, I've found a team utterly hungry for success, yet always friendly and considerate. It's this human quality that has really struck me about the team – they are completely united, so you always know they are pushing hard for you. In turn, that makes you want to step up and deliver yourself. It's unbelievable to think that McLaren is 50 today – I want to wish the team every success for the next 50 years."