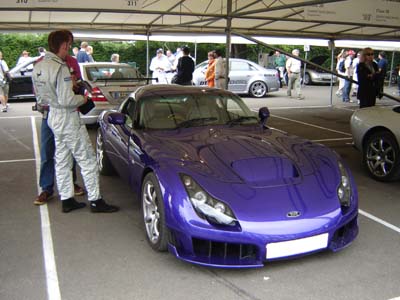 Would you like to achieve greater market penetration in your chosen market?


As intermediaries with contacts throughout Western and Eastern Europe, the Far East, and several other countries bordering the Gulf, the team at Red Dragon Motorsport (UK) are in a position to introduce your sports cars to interested distributors and dealers who have a history of successful automotive sales. Our contacts include members of a Royal family who are distributors for a variety of prestigious marques of car.
If you have no representation in a given region and you produce distinctive cars of a quality and to a specification suited to driving conditions in that region (eg. availability of air conditioning, enclosed cockpit, etc), then we may be able to introduce you to reputable resellers and dealers in that area.
We are working on behalf of several manufacturers of exclusive, prestige sports cars to help them develop new dealership arrangements in markets where they currently have little or no representation. Our aim is to link up manufacturers and dealerships so that they can bring the most desirable of sports cars to the market in a mutually beneficial working arrangement. We make no charge at all to the dealerships in question, but of the sports car manufacturers we ask a one-time finder's fee and a small percentage of the first year's sales. We only deal with first class manufacturers and dealerships.
We only deal with niche-appeal, high-value sports cars.
We do not deal with family saloon cars, commercial vehicles or micro minis!
We contact operators only after first researching the market and determining that the model of car in question might fit the dealer's portfolio.

We will assist you with the initial agreement terms and conditions (having as we do staff who speak a range of different languages) and smooth the path to a mutually beneficial trading arrangement.

Our most successful venture to date has been helping to establish a resale agreement between a northern-European supercar manufacturer and a well-established dealership (owned by the Royal Family) in the Gulf region.
If you feel that you might like to learn more about the manufacturers that we represent or the cars that they produce, please contact us by telephone: + 44 (0)7966 578999 or by email: info@reddragon.org.uk


Here are some other examples of how Red Dragon Motorsport (UK) could work with you:

* Business matchmaking: introduction and contract negotiation service provided for sports car manufacturers. Assistance in the establishment of ongoing dealership arrangements - internationally. Sourcing of potential partners for your company in your target market.

* Sourcing of specialist automotive parts internationally for specialist manufacturers and motorsport teams.

* Ad-hoc marketing and sales work on behalf of sports car manufacturers. This could include a promotional tour of a particular target market on your behalf, supporting your representatives with a view to raising awareness of the brand and looking into potential strategic partnerships / dealerships in the countries selected.

* Specialist Cross-cultural training.

* Campaign-specific Marketing and PR Consultancy work for sports car manufacturers or dealerships.

* Copywriting and translation of brochure text for sports car manufacturers or dealerships.

* Copy-editing of your promotional materials (flyers, brochures, press packs, press releases, newsletters, websites, etc).

* Ongoing public relations work (handling of media contacts, press releases, fielding media queries, etc) for sports car manufacturers.

* Web design work for manufacturers, dealerships, racing drivers, racing teams, etc, looking to raise their national and international profile and in order to increase sponsorship or financing opportunities.

* Creation of professional press packs and other marketing collateral in both digital and printed formats.

* Design and production of promotional materials from your source material or researched, translated and copy-edited by our team of language, marketing and design specialists.

* Collaboration on branding, design and the sourcing of merchandising materials (eg. racing jackets, T-shirts, polo shirts, baseball caps, promotional memory sticks, shoes, flame-retardant racing suits, etc) for manufacturers, racing teams, etc.

Our team consists of a group of very resourceful people.

If you feel that you might like to learn more about the manufacturers that we represent or the cars that they produce, or if you would like us to work on your latest promotional campaign, we will be happy to talk this over with you.

Contact us to discuss your requirements and we will be happy to supply you with a no-obligation and transparent proposal.

For immediate attention, email: info@reddragon.org.uk or call David Jones on: 07966 578999.

(Call + 44 7966 578999 if you are outside the UK).